If you are planning on redesigning or updating your church, then you may have thought about changing the upholstery of your pews. The seating of any church is essential for the community to worship and say their prayers. The seats should be easily approachable and comfortable for all members.
We will be giving complete details on the cost to reupholster a church pew – both one single pew and the all of the pews in the congregation – and whether getting new pews is more cost effective than choosing to reupholster.
Let's find out! 
How is Church Pew Reupholstery Priced?
There are a ton of considerations to make before making a decision to reupholster your church furniture. The price range varies due to many significant reasons – it mostly depends on the textile you are going for.
Upholstery can be made out of rich materials, including fabrics that can repel moisture and spills. Some fabrics are even anti-dust and anti-stain. Additionally, many people sit for long hours to worship their lord, so providing comfortable seating is a common courtesy by the church.  Providing more comfortable upholstery may also cost a bit more out of pocket.
Before attempting any cost-cutting, keep in mind that when restoring pews or getting new ones you obviously need to change the old upholstery as well.  With a brand new or polished pew, using old upholstery would take away from the elegance of the new furniture.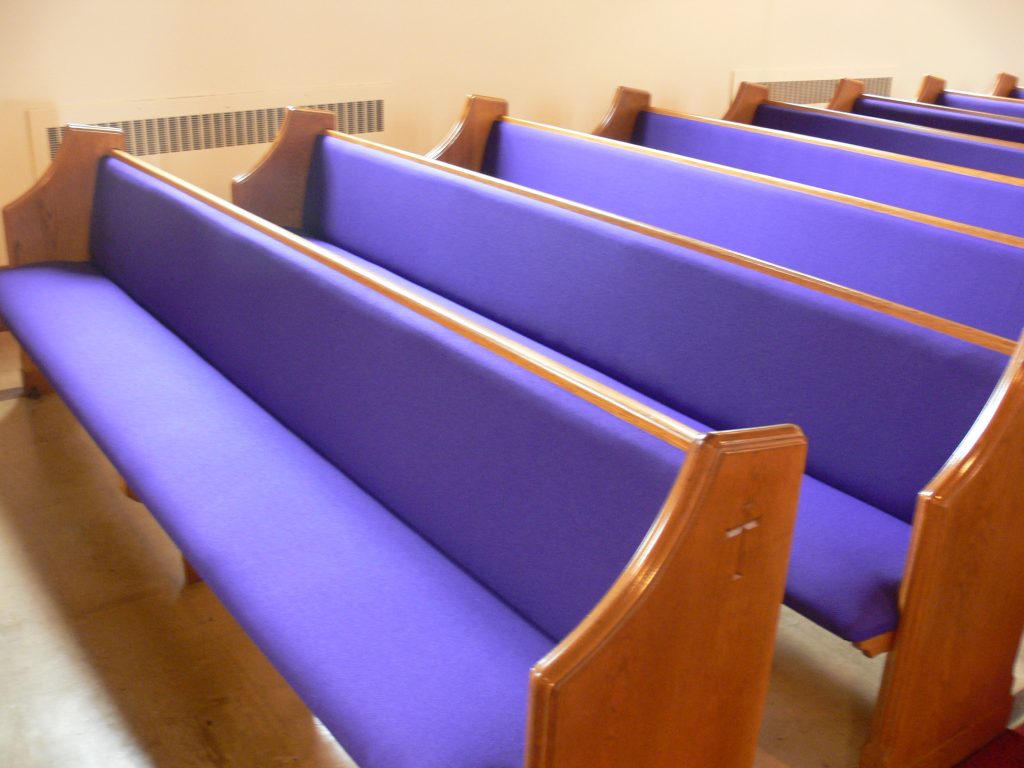 What is the Average Cost of Reupholstering a Single Church Pew? 
If you have only one damaged pew, it is significantly less in terms of expense. The minimum cost of reupholstering a single church pew is $16-$17 per foot, but can cost up to about $26 per foot. The cost adds up when you go for intricately detailed materials or expensive rich-looking fabrics, or you decide to reupholster with i-clean materials that are anti-spill, anti-stain or anti-dust.
Another aspect to keep in mind is how much upholstery you need on your pew.  Some pews only have upholstery on the bench, while others have it on the bench and seat back, etc.  The more upholstery you use obviously drives up the cost as the amount of material increases as well.
Do You Need to Reupholster Every Church Pew?
After years of use, upholstery loses its brilliance and comfort, so it's wise to change it after a while. But, if your upholstery is in good condition, there is no need to reupholster every single pew in the church.
If there is one pew that has been damaged for some reason or the material has got torn, you should think of changing that. It is not necessary to reupholster the entire church pew. That could waste a lot of money and waste suitable materials that could still be used.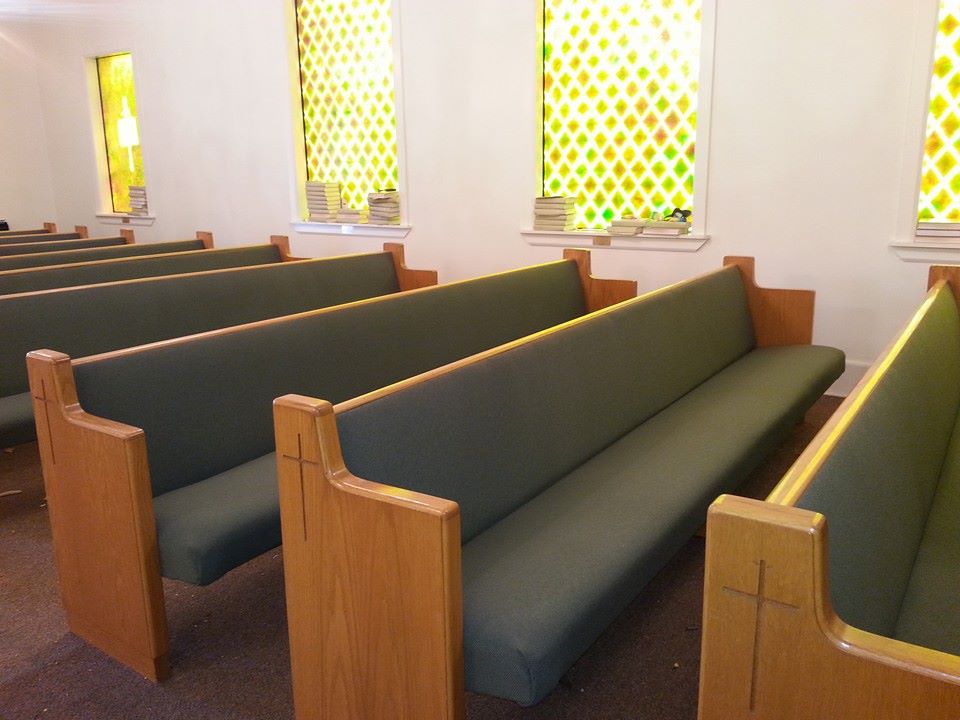 How Much Cheaper is it to Reupholster vs. Replace a Pew?
Reupholstering the pews of the church is an excellent way to refresh and refurbish your church's space without having to spend a lot of money on an entirely new set of pews. It's best to have proper and professional help to ensure that the pews come out in the best condition.  Although tedious and time consuming, there is also the DIY route – however, this leaves more room for error.
Now, it's evident that choosing to only reupholster saves significantly more money than replacing the entire church's pews with new ones. But still, if you want to replace every pew, that is also an option. Before investing in anything, ask the following questions to yourself:
Is the seat uncomfortable, or do you feel the hard surface underneath?
Has the pew upholstery gone bumpy or have lumps?
When you are sitting, are you able to hear cracking sounds from stressed woods?
Does the pew rock when sat down upon?
Is the pew collapsing, or can you feel cracks when touching it?
If you are not nodding your head while reading the questions, then it may be best to replace the entire pew rather than just the upholstery.  If the pew is falling apart, then the upholstery cannot fix the foundational imperfections of the wood itself.
McPhail Church Services, Inc.
Reupholstering can be a tedious and lengthy process, but McPhail Church Services has got you covered. Our services are super quick and affordable as well. We service North Carolina, the East Coast, and every state as far west as Texas! 
Pew upholstery is our most popular service not only in churches but also in synagogues and other sanctuaries; if you are looking to give your pews an upgrade, McPhail Church Services is the industry leader of pew reupholstery nationwide – we even offer a 15-year warranty on our upholstery. Please contact us today to get a free quote on the cost of your pew reupholstery.  We look forward to speaking with you soon.