Church Movers: Pew Installations & Pew Delivery Services
If your church is looking at used church furniture from another organization and is not sure how to move, line up, or fasten it to the floor, we can help. We are church movers! We provide pew installations and pew delivery services.
Moving used church pews from one sanctuary to another can be a complex process best left to specialists – especially if moving antique or used pews.
Take Proper Care Handling Your Church Furniture
Without the proper care it is very likely to damage the structure, finish, or upholstery of the pews. It is generally best for the used church furniture to be completely taken apart to its basic parts, shipped to its destination then installed as if it were new furniture.
For instance, many folks don't know that the support legs for the pews are cut to fit the original floor and if it is moved may need to be dropped or cut. Without this support striking the floor in a correct manner, used pews will never hold up to the use worship furniture endures.
Additionally, if you have existing pews and would like to update your lineup to meet new national fire and handicap codes we are your best bet. We are familiar with the laws and will lineup and re-anchor your furniture to meet code.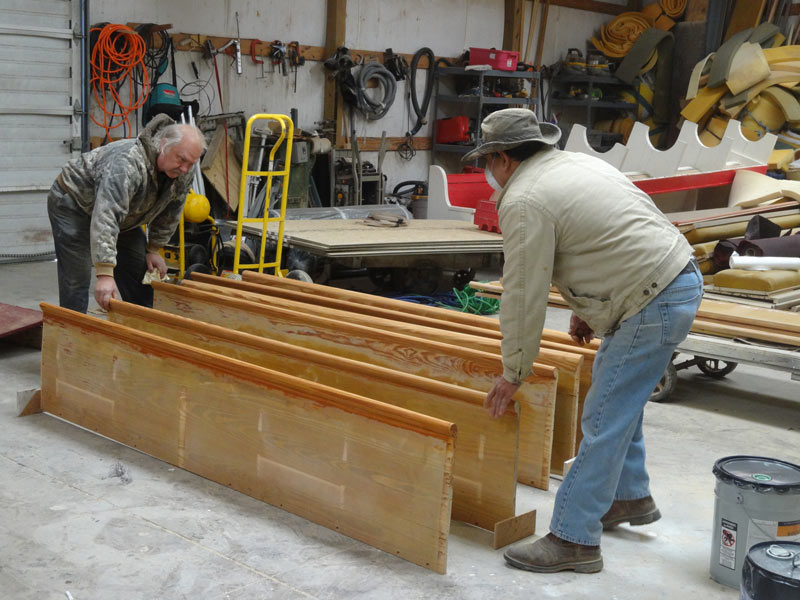 The installation of pews in a church is an important task, as it provides a place for worshippers to sit during services. Pews also play an important role in the overall aesthetic of a church and can be a focal point for the congregation. In addition, pews can be used to display religious symbols or artwork. Therefore, it is important to choose a company that has experience in installing pews.
McPhail Church Services has been installing pews for over 32 years. We have a team of skilled craftsmen who can install pews quickly and efficiently. We also offer a delivery service, so you can be sure that your pews will arrive on time and in perfect condition.
Why It's Important to Install Pews in Your Church?
When it comes to church pews, there really is no such thing as "one size fits all." The installation of pews is a critical part of the design and function of your worship space. Here are a few reasons why it's important to install pews in your church:
Pews Provide a Place for Worshipers to Sit: It's important to have enough seating for all of your worshipers, and pews are a great way to provide additional seating. Pews can also be used to create a more intimate atmosphere in your church.
Pews Can Be a Focal Point for the Congregation: The pews in your church can be used to create a sense of community and belonging. Pews can also be used to display religious symbols or artwork.
Pews Play an Important Role in the Aesthetic of a Church: Pews are often one of the first things that people notice when they enter a church. Therefore, it's important to choose pews that complement the overall aesthetic of your church.
Pews Can Help to Define the Space in Your Church: Pews can be used to create separate spaces within your church. For example, pews can be used to designate the area where the altar is located.
Pews Can Be Used to Display Religious Symbols or Artwork: Pews provide an ideal location to display religious symbols or artwork. This can be a great way to add interest to your church and make it more inviting for worshipers.
Pews Can Be Customized to Fit Your Church's Needs: Pews come in a variety of sizes and styles, so you can choose pews that fit the specific needs of your church. You can also choose to have your pews custom-made to match the unique architecture of your church.
Why Choose McPhail Church for Pew Installation and Delivery Services?
When it comes to finding a company to install your new pews, you want someone who is experienced and has a good track record. McPhail Church Delivery Services has been in business for over 32 years and has installed pews in churches all across the United States. We have a reputation for being prompt, professional, and courteous.
McPhail Church Delivery Services offers a variety of services to meet your needs. We can deliver and install your new pews, or we can just deliver them if you have someone who can install them. We also offer a variety of finishes for your pews, so you can choose the one that best matches your church's décor.
If you're looking for a company to help you with your church's pew needs, look no further than McPhail Church Delivery Services. We're here to help you every step of the way, from delivery to installation. Contact us today to get started.