Church remodeling can become quite stressful. With so many different tasks to handle at once, you may feel like you are pulled in a hundred different directions at once. All in all, many things need to be considered before, during, and after church remodeling.
The process of church remodeling doesn't put a pause on other church works – the church still has to preach the sermons, lead the ministries and take care of the community. Church reconstruction is a crucial part of continuing the legacy but can involve work and stress. We will walk through everything you need to remember while remodeling a church.
What Are The Parts Of Church Pew Remodeling?
Traditional churches have pews, which are long benches utilized for sitting, which face the altar. They are laid out on both sides of the aisle of a church. In ancient times, pews were used only by the elderly worshippers, but later they were introduced as the primary seating arrangement in all churches. They are generally made out of wood and consist of several intricate parts.
Due to its parts, pews need remodeling and repair quite often. The general process of church pew remodeling is given below:
Properly relocate all furniture from the church and number everything accordingly.
Disassemble the pews to easily access all parts.
Determine minor and major damages that need repair.
Hand strip and machine or hand sand the pews.
Stain the pews to get the color of wood that you desire.
Leave the pews overnight to dry.
Apply multiple sealing coats with uniform intervals of hand sanding.
Finally, put on a lacquer coat and let it dry overnight. You can hand-sand the pews again for a satin-like finish.
Re-assemble the pews and install them properly in linear rows in the church.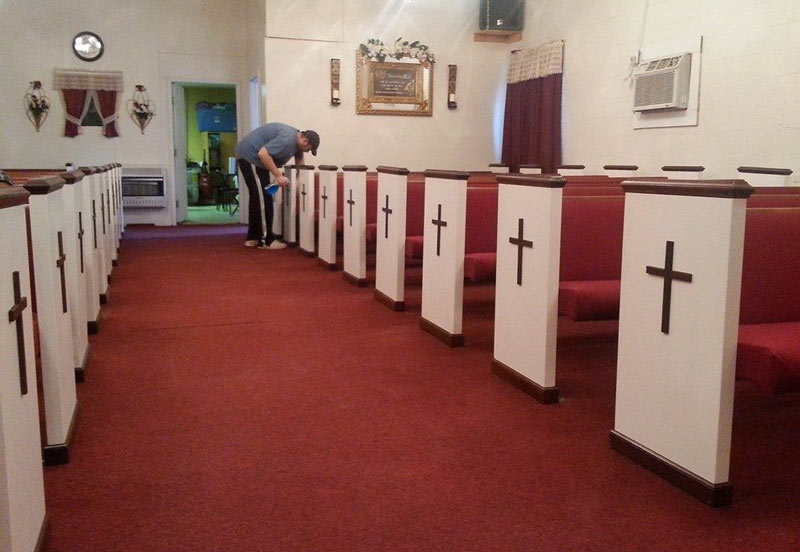 Wooden Church Pew Restoration
There isn't much difference in wooden pew restoration, but specific minute details need to be kept in mind while restoring wooden church pews. Old wooden pews tend to get super dry and dull. With time, they lose their polish and luster, but you may not need to throw them out. Wooden church pews can be restored when given good care and attention.
Follow the next few steps to know how to restore wooden church pews:
Clean all the dust and dirt from the corners, hinges, and design holes of wooden pews. A damp cloth or rag will work just fine.
To bring energy back into the lifeless wood, you need some boiled linseed oil. This oil works wonders to get the wood back to life and also protects it from further damage. Apply this oil in small sections, and old wooden pews look much more lively.
Keep the pew under the shade and let it dry. After it has dried, you may give it a good wipe with a dry cloth. The old wooden bench will be as good as new.
Wooden pews need more care as they are a bit fragile than standard pews, but restoring the pews is much better for the environment than replacing them – not to mention, they have much more sentimental value.
Church Pew Upholstery
Until now we have discussed the harder furniture and pews. But what about the upholstery that goes on the pews and other furniture? Textiles and additional soft paddings need special attention while remodeling. The pew upholstery can be only the seat or both on the seat and the back. The seat has a thick padding of 2 inches of quality foam that can get damaged with years of use.
Whereas both the seat and the back are a mixture of woodwork and foam that are glued or stapled back to the frame of the pew. Generally, the glue dries up, or stapled pins come off. In that scenario, the back upholstery must be restored.
All the previous foam and adhesive must be scraped off before applying any new product. That ensures longevity and holds the form for more years. The seats and back of the upholstery should match to get a seamless look and comfort.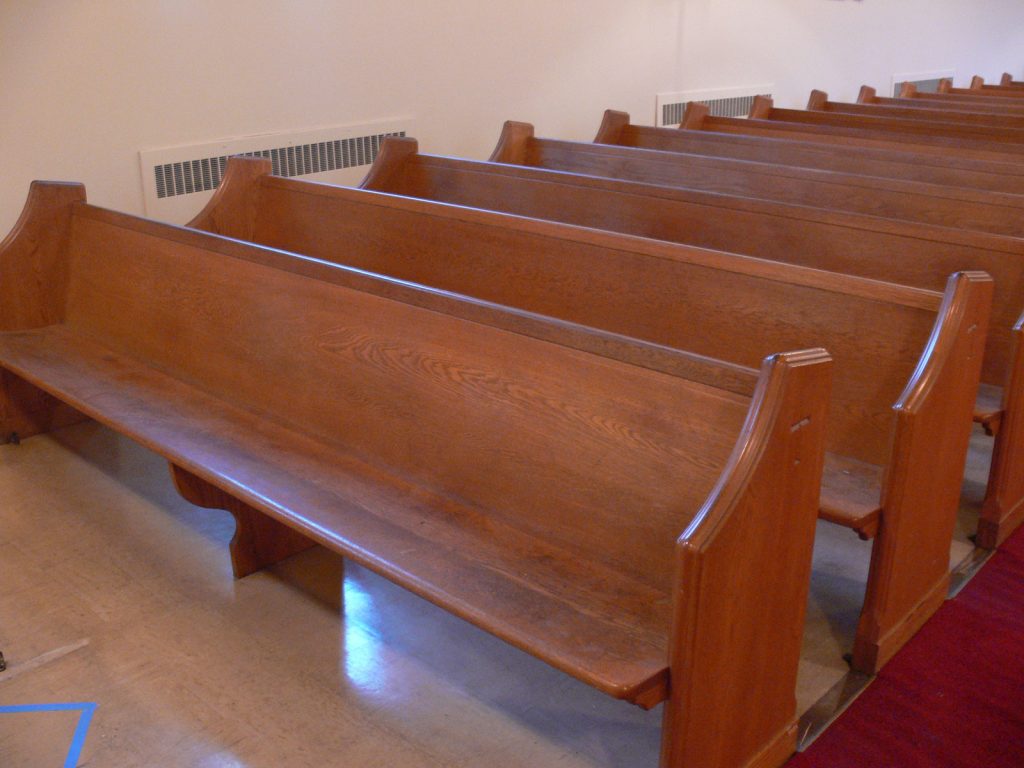 Repairing Church Pew Accessories
Church pews have a variety of accessories attached to them for better accessibility while praying or sitting on them. Some of the church pew accessories include rail cushions, kneeler cushions, book or bible racks, hymn book racks, kneeler bumpers, envelope racks, and other customized elements.
All of these pew accessories need equal repair or restoration. Many people think pew accessories are not an essential component of the restoration process, but these accessories make the pews complete and usable. Accessories like shelves, hooks, and knobs should be replaced if rusted, cracked, or broken.
Podiums: Podiums are often made of wood so that they can get damaged with regular use. The wood should be replaced as the person standing on it can get hurt in an accident.
Wooden accessories: The same goes with wooden accessories. Wood is a classic material to use in churches, but wood also gets worn out easily. So, all the accessories made of wood should be replaced or restored depending on their condition. If the wood has gone soft, then it must be returned as it can cause major accidents.
McPhail Church Services, Inc.
McPhail Church Services, Inc. is a family-owned church pew upholstery, restoration, and repair company located in Autryville, North Carolina. With over two generations of experience, McPhail Church Services can help with any of your church remodel needs; we serve states along the East Coast all the way out to Texas!
If you are looking to remodel your church, consider McPhail Church Services for any repair needs that you may have. We pride ourselves on our work and our service, and we would be honored to help you as well. Please contact us today for a free quote on any of our remodeling services.