If you are looking to have some new church pews installed into your church sanctuary, or would like to know how many pews you can fit into a given space, you've come to the right place.
A rough estimate for the size of an average church pew measured in feet is 20 L x 2.5 H x 2.25 W. Although this is an average, there are many different shapes and sizes of church pews. If you are looking to refinish your church pews or add extra seating in your sanctuary, there are several options that can be done.
Shortened Pews
Depending on how many extra seats you would like to put in your sanctuary and what space you are working with, you could easily fit a few extra pew seats. Some churches incorporate pews that are half the size of other pews at the back or front of the facility.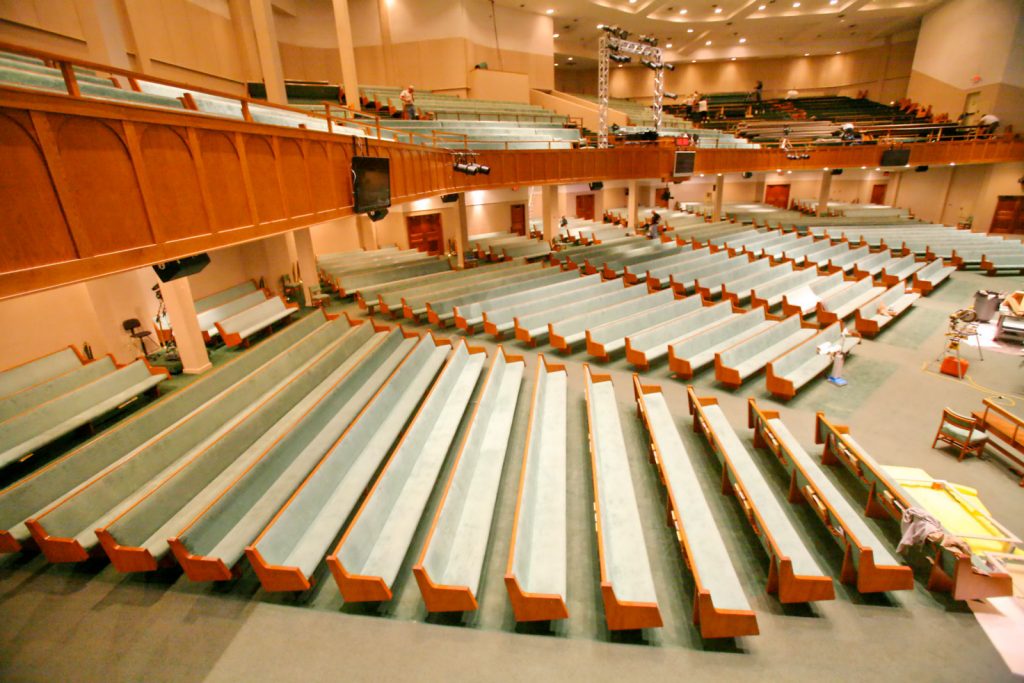 Some pews may also be different in size depending on their placement in the sanctuary. If there are three rows of pews, the middle row may be longer than outer rows or vice versa.
How Much Space Per Seat
Church pews are typically built to allow between 18-20 inches of space per seat. If you have a design for a 20 foot pew bench, then this would fit about 10 people.
There is a maximum number of seats that you can add to your sanctuary. If you add more than what is necessary, the space could look cluttered. The space between pews should also be wide enough for people to easily slide through the rows of pews.
How much Space is there Between Pews?
You cannot simply take the square footage of your facility and divide it by the pew size to get an accurate number of seats you can fit in your auditorium. You must account for the spaces to maneuver between the pews.
There are multiple spaces between each pew that you should account for. These spaces include:
Main Aisles
The space where the congregation walks from the front to back of the sanctuary to get to the exit. These aisle spaces can be as large as you would like but are typically at least 4 feet across to allow for plenty of space for two rows of people to walk.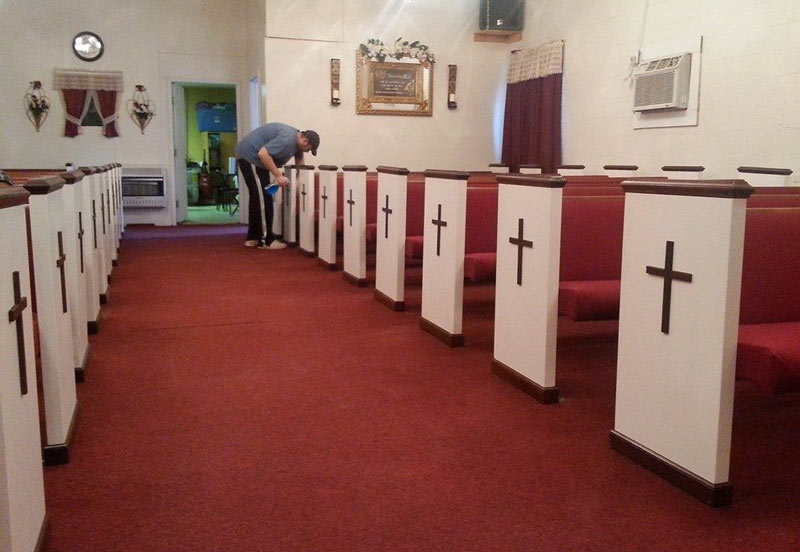 Between Pews
This space is where people walk in order to get to their seat on the pew. This space must be large enough for someone to pass around another person who is already seated. This means that there is usually around 18 inches of space between each pew front to back.
Outside Edge Space
The center aisle is not the only way that guests should be able to exit the pews. There should be enough space on the outside of end pews for guests to exit. This area is usually less than the main aisle at about 2 feet across. This should allow for one person to comfortably exit the facility.